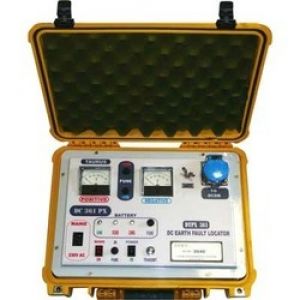 DC EARTH FAULT LOCATOR
DC EARTH FAULT LOCATOR simplifies the tracking of ground faults on DC floating system in power station. DC Earth Fault Locators are also called as Battery Ground Fault Locators. It's an intelligent sensing system, precisely identifies and tracks the complex faults of any DC floating system.

DC EARTH FAULT LOCATOR locates the fault easily in the charged conditions and pin-points the fault location. Our System is useful in all power industry in maintaining the DC control system.

DC EARTH FAULT LOCATOR is capable of locating and pin-pointing DC Earth faults ON - LINE in floating DC system without switching off any of substation feeders/circuits. Globally it is the only system capable of finding fault in mixed dual battery system by first finding the troublesome point of mixing.

DC EARTH FAULT LOCATOR is an auto-calibrated portable system comprising of two main units: Main unit with the transmitter; Fault guide receiver unit. The system being a compact & portable kit can be connected to the DC bus as and when required. It is highly sensitive equipment which will locate all faults including high resistance (upto 400kΩ) in the floating DC system.
---